The fascination of Scientist around the world,with Buddhism has been a story of news for many years. Some even say Buddhism is a Science of the Mind. What ever it may be they do meet.
Here we have Science meeting Buddhism at its best. One of the very fond subject of HH the 14th Dalai Lama. Self-spinning Tibetan prayer wheel with its own solar panel chip. Does not require electricity. Comes with a beautiful padded hand made case/box. With a small custom designed paper bag to give as a gift. Cylindrical vessel has Om Mani Padme Hum mantra of compassion in both Tibetan & Sanskrit, Om Mani Padme Hum is the Great Six Syllable Mantra of Chenrezig, the Bodhisattva of Compassion. Check out our mini Prayer Flags with the same mantra. It is the most widely practiced mantra of Tibetan Buddhism, It is known to have great power to bestow, compassion, peace & wisdom. A beautiful addition to your home or office, or a perfect gift. Place this eco-friendly prayer wheel in a well-lit window sill & watch it spin throughout the day, emitting blessings and prayers of well-being & compassion. Also works well without sunlight if placed close to or under a bright lamp. ENJOY and spread your prayers and blessings with the power of solar and wind energy. It would be a great addition to all Altars in your homes.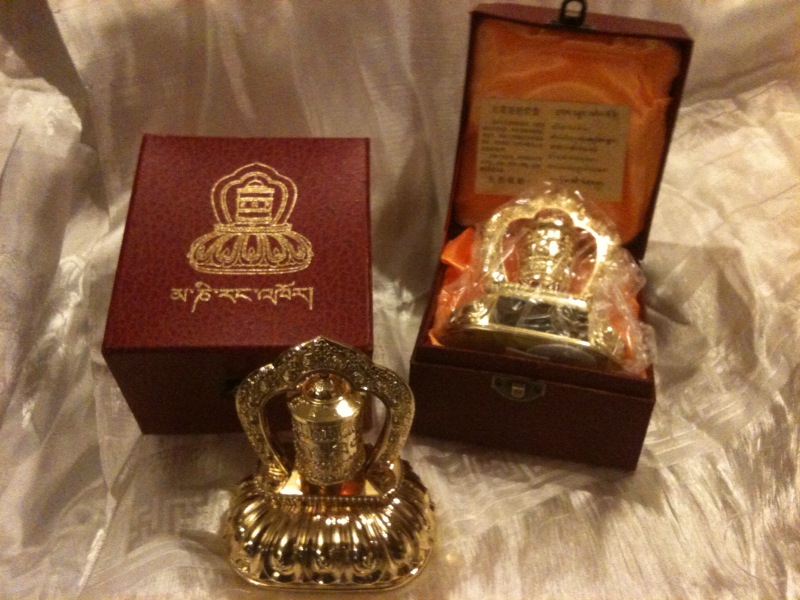 SOLAR POWERED PRAYER WHEEL
2014 (WOOD-HORSE YEAR ) Wall Calendar
This Prayer wheel is the talk of Tibetan Buddhist world as the must have of the year.It is made of a Zinc Alloy. The maroon colored Box is hand made with a beautiful Gold Embozzing of a Prayer Wheel design on the top in gold ink. Also very skillfully protected inside, with form padding on top and bottom, with a nice gold yellow velvet fabric to cradle it for protection & for shipping needs. The Prayer Wheel measure close to 4" wide at the Lotus base, and 2.75" deep. Actual height of the whole set is 4.5" and the Spinning wheel is 2" high and 1.25" wide. The Solar panel screen is 2"x 1". It comes with a nice yellow colored paper gift bag.Also has a single 1.5" circular double sided sticky if you put it in your car, or 4 mini double sided stickers so you can stablize it at your Altar or elsewhere you choose. This product is made out of TIBET. Comes with a brief write up in both Tibetan and Chinese. Will post a literal transalation shortly. Here it is for the small written card.